Renouncing US Citizenship, Taxes & Cost Benefits
28 January 2021
Renouncing US citizenship when abroad, for example in the UK, has its benefits. The benefits to taxes and the general cost is something we're often speaking to our clients about. For this reason, we thought we'd share our experience and advice in more detail for you here.
If you'd like to read this later, you can download the PDF copy here:
---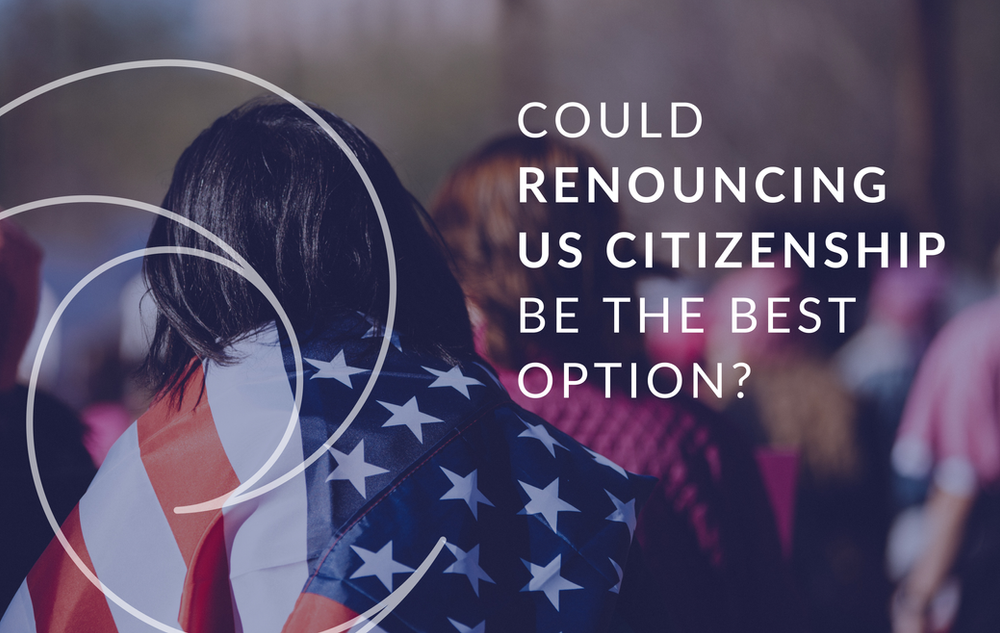 As the system currently stands, US citizens, and in many cases people holding a US "green card" have to file an annual income tax return with the IRS. This is regardless of where they are living and working.
This can be a costly and time-consuming exercise. But for those with no plans to move back to the US, the possibility of renouncing US citizenship might help. There a many attractive prospects and benefits to jumping off the US tax law carousel.
However, this is a decision that should not be taken lightly. There are many non-tax issues that should be considered before going ahead.
Although the US Embassy is currently closed due to Covid-19 restrictions, you could use this time to consider whether this would be the best financial and personal option for you.
Renouncing US citizenship in the UK – how do I do it?
When abroad, renouncing US citizenship is a relatively straightforward process. It is not necessary to engage an immigration lawyer to ensure that everything is done correctly. Although some people may wish to do so to give themselves some extra comfort.
When renouncing US citizenship, you must follow these steps and requirements
Complete the relevant forms prior to the appointment and gather all the relevant documents of proof of citizenship, name changes, divorce and marriage with you.
Submit the completed forms and copies of the required documents to the US Embassy by email.

If the Embassy is happy that these are in order, they will schedule an in-person appointment.
If the Embassy is not satisfied with the forms and documents provided, they will request changes to be made.

Have a passport proving citizenship of another country. Without a second passport citizenship cannot be renounced.
Complete a form with your last US tax return which includes a personal balance sheet (i.e. a schedule of all assets and liabilities).
Pay the renunciation cost of $2,350 USD.
As part of the process if you meet one of three criteria you may also be liable for an Exit Tax:
If your average income tax liability over the past five years is more than the specified amount (for 2020 this was $171k, and is adjusted annually for inflation).
If the aggregate net value of your global assets less global liabilities is in excess of $2m.
If you fail to certify five years of tax compliance to the US.
If you meet any of these criteria you will be treated as if you disposed of all assets on the last day of your US citizenship and will be taxed according to the Capital Gains Tax requirements. In addition, you may be deemed to have received a full distribution from certain trust or deferred compensation arrangements (such as pension plans) of which you are a beneficiary. Finally, complex rules will apply that may result in a tax charge on future gifts or bequests to US persons.
However, there are some exemptions to the Exit Tax tests listed above. Firstly, some people born with dual nationality, and citizens under the age of 18.5 years old are exempt.
Similar rules apply to individuals who relinquish their lawful permanent residence ("green card") status if they have held their green card for more than eight of the previous fifteen years, although the administrative process of relinquishing a green card is much less involved.
Pros and cons to renouncing US citizenship
With any potentially life-changing decisions there are pros and cons and these need to be considered very carefully.
Pros
Simplification of future tax reporting and liabilities.
No longer necessary to certify your status as a US citizen with financial institutions resulting in more flexibility around investments and potentially reduced banking or investment costs.
You only have to report to the US certain income which derives from sources within the US.
Any interest earned on deposits with US banks will be tax-free in the US.
Cons
The administrative cost as well as the Exit Tax provisions described above.
Renouncing your citizenship may make it more difficult to get a job in the US.
Unable to vote in US elections.
You may need a visa to visit the US for any purpose not covered by the ESTA program.
Renouncing US citizenship cost
You must pay the renunciation cost of $2400 USD
Further financial considerations and clauses are included above
Are you are considering renouncing your US citizenship to simplify your tax affairs? Why not give our team at Everfair a call and we can talk you through the process. Hearing your specific circumstance, we can share how it would benefit you and what else you should consider.